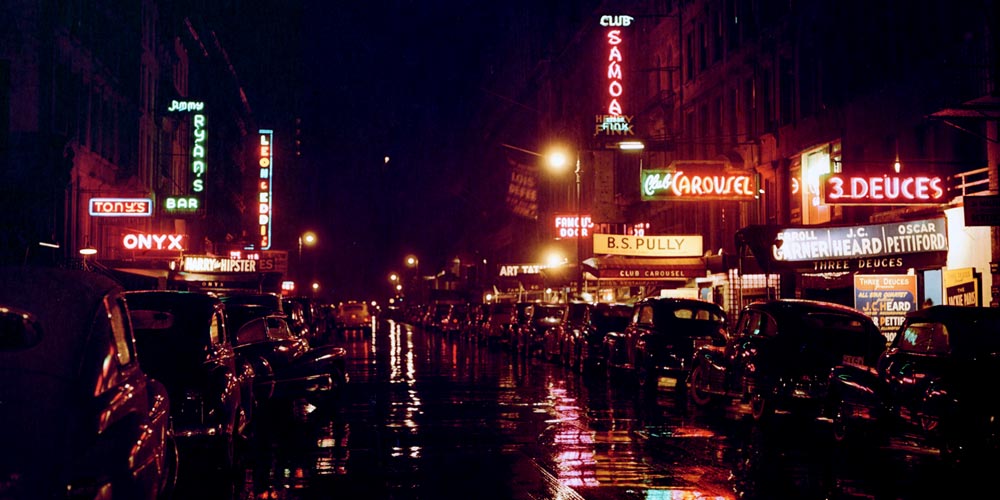 The history of the album cover and show poster begins with jazz. Alex Steinweiss started creating the first album artwork at Columbia Records in the late 30s, replacing the brown paper sleeves that jazz 78s came in. David Stone Martin did early work for Norman Granz's Jazz at the Philharmonic, creating unique lettering and illustrations with a crow quill pen (his work is in the Smithsonian). But the most influential designer was probably Reid Miles, who created over 500 album covers for Blue Note Records. He pioneered the use of creatively-arranged type over monochromatic photography, which is a style that is still widely used in graphic design today.
Rather than post 100s of covers and posters, I wanted to isolate the lettering for easy browsing and analysis. There's a lot of lettering out there, and a lot I left out. I tried to cover most of the genre's significant musicians (and only pick one piece per artist), but if missed anything glaring, let me know.
As a bonus, there's a bit of a cross-over with one of my recent posts. See if you can spot the Milton Glaser lettering!
---
Ahmad Jamal

Albert Ayler

Anthony Braxton

Art Blakey

Art Pepper

Artie Shaw

Art Tatum

Ben Webster

Bennie Moton

Benny Carter

Benny Goodman

Bessie Smith

Bill Evans

Billie Holiday

Bud Powell

Buddy Rich

Cab Calloway

Cannonball Adderley

Cecil Taylor

Charles Earland

Charles Mingus

Charlie Parker

Chet Baker

Chick Correa

Chick Webb

Chuck Mangione

Clifford Brown

Coleman Hawkins

Count Basie

Dave Brubeck

David Murray

Dean Martin

Della Reese

Dexter Gordon

Dinah Washington

Dizzy Gillespie

Django Reinhardt

Donald Byrd

Duke Ellington

Earl Hines

Eddie Jefferson

Ella Fitzgerald

Eric Dolphy

Errol Garner

Esther Phillips

Etta James

Fats Navarro

Fats Waller

Fletcher Henderson

Frank Sinatra

Freddie Hubbard

Gato Barbieri

George Benson

George Russell

George Shearing

Gerry Mulligan

Gil Evans

Gil Scott-Heron

Hank Crawford

Hank Mobley

Herb Alpert

Herbie Hancock

Herbie Mann

Horace Silver

Hugh Masekela

Illinois Jacquet

Jack McDuff

James Moody

J.J. Johnson

Jelly Roll Morton

Jimmie Lunceford

Jimmy Dorsey

Jimmy Smith

Joe Henderson

John Coltrane

John McLaughlin

Johnny "Hammond" Smith

June Christy

Keith Jarrett

Kid Ory

King Curtis

King Oliver

Lalo Schifrin

Lee Morgan

Lena Horne

Lennie Tristano

Lester Young

Lionel Hampton

Louis Armstrong

Louis Jordan

Mal Hallett

Max Roach

McCoy Tyner

Miles Davis

Milt Jackson

Miriam Makeba

Nat King Cole

Nina Simone

Ornette Coleman

Oscar Peterson

Oscar Pettiford

Paul Horn

Quincy Jones

Ramsey Lewis

Rashaan Roland Kirk

Red Norvo

Roscoe Mitchell

Roy Ayers

Roy Eldridge

Sammy Davis Jr.

Sammy Kaye

Sarah Vaughan

Sergio Mendes

Sidney Bechet

Sonny Rollins

Sonny Stitt

Stan Getz

Stan Kenton

Sun Ra

Teddy Wilson

Thelonious Monk

Velma Middleton

Wayne Shorter

Wes Montgomery

Woody Herman

Wynton Marsalis

Yusef Lateef