Marvel Superhero Lettering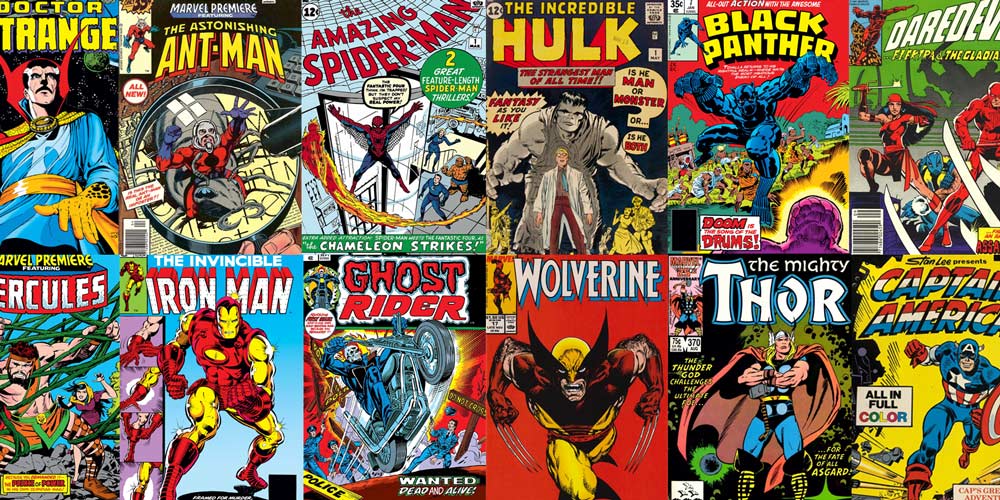 I just started getting into comic books for the first time a few years ago. My son was interested as well, so we started making regular trips to the comic book store (pre-covid, of course). We loved looking at the artwork and lettering of the older comics. And like most lettering, right around the late 90s, it all went to shit. The hand-lettering masterpieces were abandoned for fonts and photoshop effects. With that said, I limited this post to the pre-'00s. I wanted to do something more vintage, but there are just too many from the 80s and 90s that I love. My absolute favorite was seeing all the interpretations of 3D type.
I will say that comic books, in general, can be a challenging hobby to pick up. It's easy enough to go to the store and grab whatever jumps out at you, but all the authors, artists, storylines, volumes, issues, etc., can be intimidating to sort out, especially for a newbie like me. I quickly found that it would be impossible to do a general "comic book lettering" post. There's just too much out there. So I've decided to break it down into manageable chunks, starting with what I find to be the most popular - Marvel superheroes. These don't include teams, duos, or villains. And obviously, nothing from DC. Hopefully, if this post is popular enough, it will be an excuse to do more.
As always, if I missed anything worth showing, let me know.
---
3-D Man

Ant-Man

Ant-Man

Banshee

Beast

Bishop

Black Bolt

Black Goliath

Black Knight

Black Knight

Black Panther

Black Panther

Black Widow

Black Widow

Brother Voodoo

Cable

Cannonball

Captain America

Captain America

Captain America

Captain Britain

Captain Marvel

Captain Marvel

Captain Marvel

Colossus

Cyclops

Daredevil

Daredevil

Daredevil

Daredevil

Darkhawk

Dazzler

Dazzler

Deadpool

Deathlok

Deathlok

Doc Samson

Doctor Strange

Doctor Strange

Doctor Strange

Domino

Elektra

Falcon

Falcon

Firestar

Ghost Rider

Ghost Rider

Ghost Rider

Havok

Hawkeye

Hellstorm

Hercules

Hercules

Hercules

Howard the Duck

Hulk

Hulk

Hulk

Human Fly

Human Torch

Hyperion

Iceman

Invisible Girl

Iron Fist

Iron Man

Iron Man

Iron Man

Iron Man

Jack of Hearts

Ka-Zar

Ka-Zar

Ka-Zar

Killraven

Kitty Pryde

Longshot

Luke Cage

Luke Cage

Machine Man

Machine Man

Magik

Man-Thing

Mister Fantastic

Mockingbird

Moon Knight

Moon Knight

Moondragon

Namor

Namor

Namor

Nick Fury

Nick Fury

Nick Fury

Nick Fury

Night Thrasher

Night Thrasher

Nightcrawler

Nighthawk

Northstar

Nova

Nova

Phoenix

Professor X

Punisher

Punisher

Quasar

Quicksilver

Red Wolf

Rocket Raccoon

Rogue

Sasquatch

Scarlet Witch

Scarlet Witch

Shang-Chi

Shang-Chi

She-Hulk

She-Hulk

Silver Surfer

Silver Surfer

Silver Surfer

Slapstick

Speedball

Spider-Girl

Spider-Man

Spider-Man

Spider-Man

Spider-Man

Spider-Woman

Spider-Woman

Spitfire

Spitfire

Star-Lord

Star-Lord

Stingray

Thing

Thor

Thor

Thor

Thor

Thunderstrike

Tigra

Tigra

Union Jack

U.S Agent

Valkyrie

Vision

Vision

War Machine

Adam Warlock

Adam Warlock

Adam Warlock

Wolverine

Wolverine

Wonder Man

X-Man