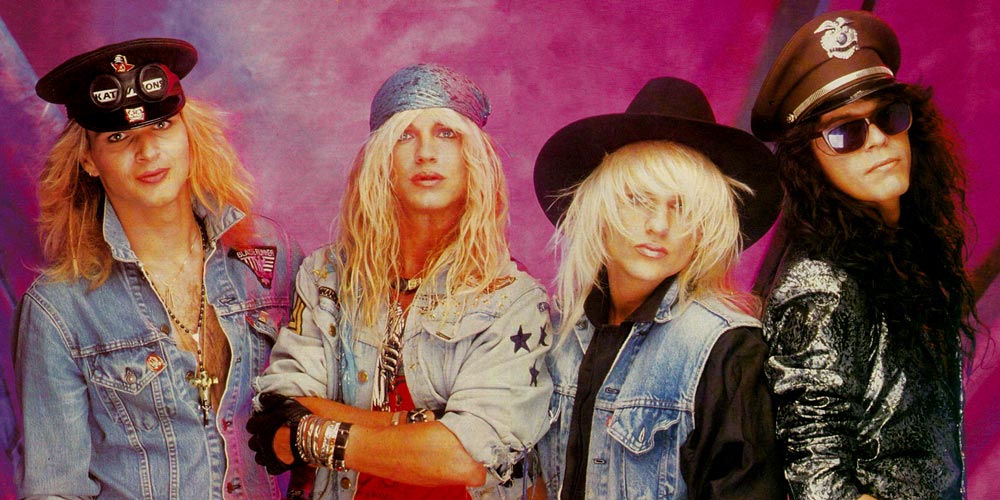 The hair band movement was a relatively short-lived one, characterized by the wild looks just as much as the music. But if you dig deeper, it was also full of band lettering that featured glorious chrome letters, sharp edges, and 3D type treatments.
There's a popular theory that the hair band movement was ushered in by Van Halen. Although I don't think Van Halen is an actual hair band (though David Lee Roth fits as a frontman), they did set the blueprint by re-introducing hard rock to the mainstream. I also think that they set the blueprint for hair band lettering. The cover of their 1978 debut album had stylized chrome lettering (with wings!), and they took it a step further with their follow-up album in 1979. Van Halen II introduced the isolated "VH" mark while also making the chrome letters 3D. That mark was groundbreaking and is one of the most imitated band logos around.
I realize that some of the artists included are questionable fits. Career-wise, Aerosmith only briefly appeared, and Alice Cooper and KISS are probably more in the hard rock/metal category. I also feel like bands such as Guns N' Roses and Bon Jovi are rock bands with hair band influences. As always, if you have any good ones I missed, let me know.
---
Aerosmith

Alice Cooper

Bon Jovi

Britny Fox

BulletBoys

Cinderella

Damn Yankees

Danger Danger

The Darkness

David Lee Roth

Def Leppard

Dokken

Enuff Z'Nuff

Europe

Extreme

Faster Pussycat

Firehouse

Great White

Guns N' Roses

Hanoi Rocks

Helix

Helix

Keel

Kiss

Kix

L.A. Guns

Lita Ford

Lizzy Borden

Love/Hate

Mötley Crüe

Mötley Crüe

Mr. Big

Night Ranger

Nitro

Poison

Pretty Boy Floyd

Quiet Riot

Ratt

Saigon Kick

Scorpions

Scorpions

Skid Row

Slaughter

Steelheart

Stryper

Tesla

Thunder

Tuff

Twisted Sister

Twisted Sister

Twisted Sister

Vain

Van Halen

Van Halen

Vinnie Vincent Invasion

Vixen

Warrant

W.A.S.P.

White Lion

Whitesnake

Winger

Y & T