Science Fiction Movie Lettering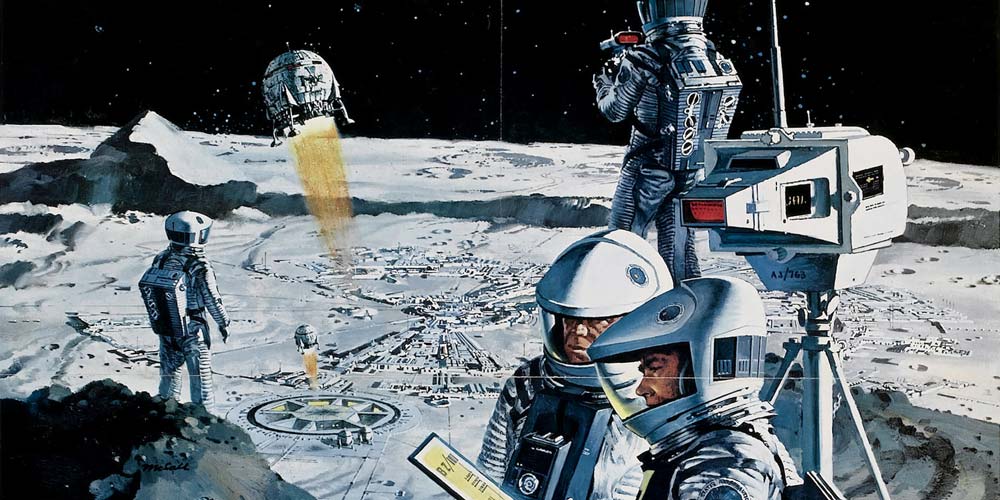 The lettering in science fiction cinema can sometimes be more memorable than the movies themselves. Just about anyone in America would recognize the Star Wars logo, even if they haven't seen all nine films. As is the case with most of my logo posts, it's been fun to pick up on the trends. There's the trick where they remove the segments from the top half of the letters like Blade Runner, or the embossed brushed metal of Robocop. Glowing letters were a big trend that started in the late 80s, most likely set off by the Alien franchise. And I can never get enough of the 3D type in early films.
There are a lot of movies out there, so I ended up setting some guidelines on what to include, the first being no movies past the year 2000. That eliminated a bunch of superhero movies (which really should just be a genre of their own), and a bunch of mediocre lettering for great films (do you really care to see the typeface for Arrival?). In short, I made up some guidelines to make it more digestible and interesting. If I left one out, it's not a knock on the movie itself. But if you do find a nice little piece of lettering that I missed, reach out on Twitter and let me know.
---
4D Man

12 Monkeys

12 to the Moon

1984

2001: A Space Odyssey

2010: The Year We Make Contact

20,000 Leagues Under the Sea

The Abyss

The Adventures of Buckaroo Banzai Across the 8th Dimension

Akira

Alien

Aliens

Alien3

Alien Resurrection

Alien Nation

The Alligator People

Alphaville

Altered States

The Andromeda Strain

The Angry Red Planet

Atlantis, the Lost Continent

Attack of the 50 Foot Woman

Back to the Future

Back to the Future Part II

Back to the Future Part III

Barbarella

Battle for the Planet of the Apes

Beneath the Planet of the Apes

The Black Hole

Blade Runner

The Blob

The Blob

The Bride of Frankenstein

Brazil

Cat-Women of the Moon

A Clockwork Orange

Close Encounters of the Third Kind

Cocoon

The Colossus of New York

The Computer Wore Tennis Shoes

Conquest of the Planet of the Apes

Contact

The Crawling Eye

Dark City

Dark Star

The Day of the Triffids

The Day the Earth Stood Still

The Deadly Mantis

Death Race 2000

Demolition Man

Destination Moon

Dollman

Dune

Earth Vs. the Flying Saucers

Enemy Mine

Escape from New York

Escape from the Planet of the Apes

E.T. the Extra-Terrestrial

Explorers

Fantastic Planet

Fantastic Voyage

Farenheit 451

First Men in the Moon

Five Million Years to Earth

Flash Gordon

The Fly

The Fly

Forbidden Planet

Fortress

Frankenstein

Future Cop

Galaxy Quest

Gattaca

Ghost in the Shell

Ghostbusters

Ghostbusters II

Godzilla

The Green Slime

Honey, I Shrunk the Kids

I Married a Monster from Outer Space

The Incredible Shrinking Man

Independence Day

Innerspace

Invaders From Mars

Invaders From Mars

Invasion of the Body Snatchers

Invasion of the Body Snatchers

The Invisible Man

The Iron Giant

It Came from Outer Space

It Conquered the World

Johnny Mnemonic

Journey to the Far Side of the Sun

Judge Dredd

Jurassic Park

The Lost World: Jurassic Park

The Last Starfighter

Lifeforce

Liquid Sky

Logan's Run

Mad Max (Australia)

Mad Max (US)

Mad Max 2: The Road Warrior (Australia)

Mad Max 2: The Road Warrior (US)

Mad Max Beyond Thunderdome

The Man from Planet X

The Man Who Fell to Earth

Marooned

Mars Attacks!

The Matrix

Men In Black

Metropolis

Not of This Earth

The Omega Man

Outland

Phase IV

Plan 9 from Outer Space

Planet of the Apes

Predator

Repo Man

Robinson Crusoe on Mars

Robocop

Rocketship X-M

Rollerball

The Running Man

Seconds

Silent Running

Sleeper

Solaris

Soylent Green

Spaceballs

Species

Sphere

Stalker

Star Trek: The Motion Picture

Star Trek II: The Wrath of Khan

Star Trek III: The Search for Spock

Star Trek IV: The Voyage Home

Star Trek V: The Final Frontier

Star Trek VI: The Undiscovered Country

Star Wars: Episode IV – A New Hope (Howard Chaykin Version)

Star Wars: Episode IV – A New Hope (Dan Perri Version)

Star Wars: Episode IV – A New Hope

Star Wars: Episode V – The Empire Strikes Back

Star Wars: Episode V – The Empire Strikes Back (Alternate Version)

Star Wars: Episode VI – Return of the Jedi

Stargate

Starman

Starship Troopers

Stepford Wives

Superman: The Movie

Superman II

Superman III

The Terminator

The Terminator (College Roadshow Version)

Terminator 2: Judgment Day

Them

They Live

The Thing

The Thing (Title Screen Version)

The Thing from Another World

Things to Come

This Island Earth

THX 1138

The Time Machine

Time Bandits

Total Recall

Tron

Voyage to the Moon

The War of the Worlds

Westworld

When Worlds Collide

The X-Files: Fight the Future

Zardoz