Action Movie Newspaper Ads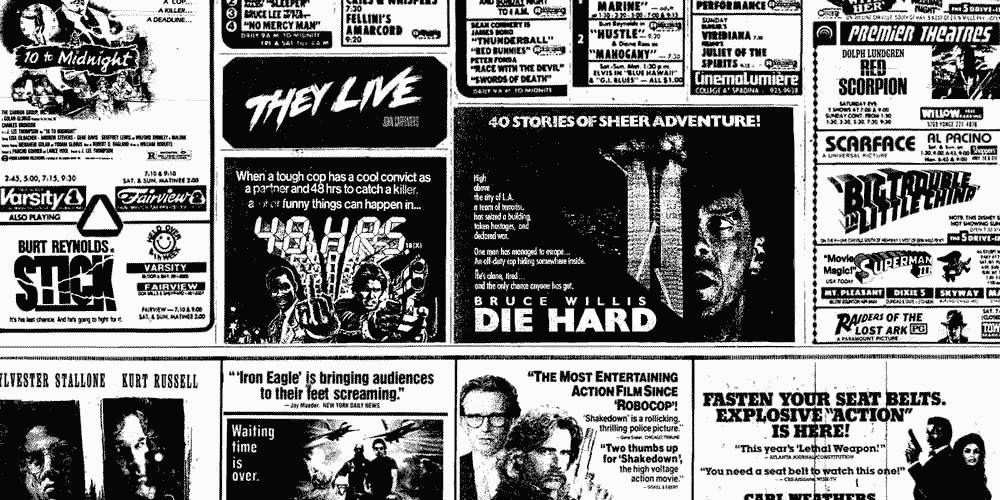 I love looking at old newspaper ads because they feel like little time capsules. Most of the time, they illustrated a film in an entirely new light and were the only context you had for deciding what to see at the theater. For this post, I went all-in on action movies from the 80s, which had the biggest stars and the best marketing pitches. Timeless lines like "This Cop Doesn't Stop for Donuts!" or "Science created him. Now Chuck Norris must destroy him." are hard to top. The graininess and grit of the 1-color format bring it all home.
I ended up adding a little extra art direction to this post to make it feel like you've got a newspaper open to the movies page. I hope it's subtle enough to be fun yet familiar. Buckle up!
---
10 to Midnight

48 Hrs.

A View to a Kill

Above the Law

Action Jackson

Beverly Hills Cop

Beverly Hills Cop II

Big Trouble in Little China

Black Rain

Bloodsport

Blue Thunder

Cobra

Code of Silence

Commando

Cyborg

Dead Heat
---
Death Hunt

Death Wish 4: The Crackdown

The Delta Force

Die Hard

Escape from New York

Extreme Prejudice

Fatal Beauty

Firefox

For Your Eyes Only

Forced Vengeance

Indiana Jones and the Temple of Doom

Indiana Jones and the Last Crusade

Invasion U.S.A.

Iron Eagle

Jaws 3-D

Jaws 4
---
The Jewel of the Nile

K-9

Kickboxer

Knights of the City

Lethal Weapon

Lethal Weapon 2

Licence to Kill

The Living Daylights

Lone Wolf McQuade

Mad Max 2

Mad Max Beyond Thunderdome

Megaforce

Missing in Action

Murphy's Law

Never Say Never Again

Next of Kin
---
Night Hawks

No Holds Barred

No Retreat No Surrender

Octopussy

Out of Bounds

Over the Top

Pink Cadillac

Predator

Raiders of the Lost Ark

Rambo: First Blood

Rambo: First Blood Part II

Raw Deal

Red Dawn

Red Heat

Red Scorpion

Roadhouse
---
RoboCop

Romancing the Stone

Running Man

Running Scared

Shakedown

Silent Rage

Stakeout

Stick

Streets of Fire

Tango & Cash

Sharky's Machine

Terminator

They Live

Turner & Hooch

Top Gun

Young Guns
---