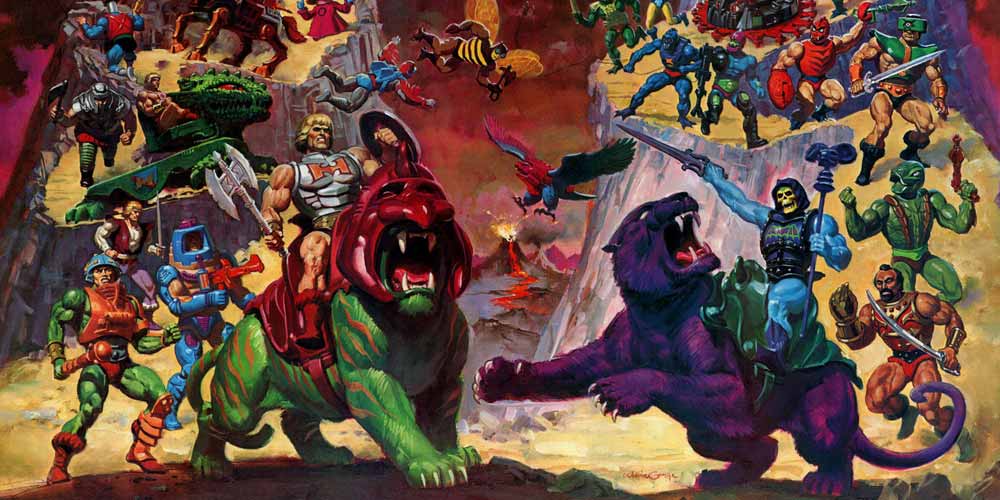 Inspiration is a rabbit hole. You stumble across one thing that makes you feel nostalgic, and the next thing you know you're up all night exploring a new world. This happened to me recently with action figures.
My kids have become seasoned pros at diverting us to the toy aisle when we run errands. On a recent trip to Target, I noticed a lot of familiar action figures from my own childhood: Ninja Turtles, Star Wars, G.I. Joe, Transformers, etc. It felt like a bit of a time warp. That night I started looking up old action figures and stumbled upon the FigureRealm site. FigureRealm is a community that has been documenting and classifying action figures since 2002. These kind of sites are the best part of the internet.
Although there were a ton of figures made in the 80s, I found that a majority were knockoffs. When anything became popular, some other toy maker tried to get a piece of it (Who you gonna call? Spook Chasers!). I felt like this blog post was just the tip of the rabbit hole, though. I could read a 500 page book right now on the evolution of G.I. Joe. and I'd happily kickstart a coffee table book with a complete toy archive of Kenner or Mattel. There seems to be so much to unpack here, but for now enjoy these 80s action figure logos.
---
A-Team

Action Force

Action Heros

Advanced Dungeons & Dragons

Adventure People

Air Raiders

All Star Wrestlers

Animax

Army Ants

Automan

Bad Guys

Barnyard Commandos

Battle Beasts

Battle Brawlers

Battlehawks

Beetlejuice

Bionic Six

Black Hole

Blackstar

Boglins

Bone Age

BraveStarr

Bravo Company

Bugmen of Insecta

C.O.P.S. N Crooks

California Raisins

Captain Power

Centurions

Chipmunks

Chuck Norris

Clash of the Titans

Combo

Commando Force

Commando Ranger

Computer Warriors

Conan

Convertors

Corps!

Cosmic Cowboys

Crystar

DC Comics Superheroes

DC Super Amigos

DC Super Powers

Defenders of the Earth

Defenders of the Planets

Dempsey and Makepeace

Dino Riders

Doctor Who

Donkey Kong

Dragon Force Dragonmaster

Dragonriders of the Styx

Dragons, Knights & Daggers

Dukes of Hazzard

Dune

E.T.

Eagle Force

Fantasy World

Flash Gordon

Food Fighters

G.I. Joe

Galaxy Heroes

Galaxy Warriors

Ghostbusters: Filmation

Ghostbusters: The Real

Go-Bots

Golden Girl

Goosebumps

Greatest American Hero

Gremlins

Gung-Ho!

Guts!

He-Man: Masters of the Universe

He-Man: New Adventures

Indiana Jones

Infaceables

Inhumanoids

Inspector Gadget

Karate Kid

Knight Rider

Li'l Loggers

Lone Ranger

Lost World of the Warlord

Love Boat

M.A.S.K.

M.U.S.C.L.E. Men

Mad Balls

Madelman 2050

Magnum P.I.

Manglors

Marvel Secret Wars

Maxx FX

Mega Force

Megadons

Micronauts

Mighty Crusaders

Mork & Mindy

Mr. T

Muscle Warriors

Ninja

Ninja Strike Force

Other World

Over the Top

Pee Wee's Playhouse

Pirates of the Galaxseas

Playmo Space

Pocket Super Heroes

Police Academy

Power Lords

Princess of Power

Rambo

Robo Force

Robocop

Robot Renegades

Robotech

Robotix

Rock Lords

Rocky

Rocky & Bullwinkle

Sarge Team

Sectaurs

Sgt. Rock

Silver Hawks

Sky Commanders

Smurfs

Spiral Zone

Spitballs

Spook Chasers

Star Trek: The Motion Picture

Star Trek: The Next Generation

Star Trek III

Star Trek V

Star Wars: Droids

Star Wars: Empire Strikes Back

Star Wars: Ewoks

Star Wars: The Power of the Force

Star Wars: Return of the Jedi

Starcom

Starriors

Steel Monsters

Super Naturals

Super Stars

Team America

Teddy Ruxpin

Teenage Mutant Ninja Turtles

Terrahawks

Thundercats

Tigersharks

Transformers

Tron

Ulysses 31

Universal Monsters

V

Visionaries

Voltron

Voltron

Warrior Beasts

Wheeled Warriors

Who Framed Roger Rabbit

Willow

Wizard of Oz

WWF

X-Changers

X-Force

Xpanders

Zoids

Zorro

Zybotz
---