American Automobile Logos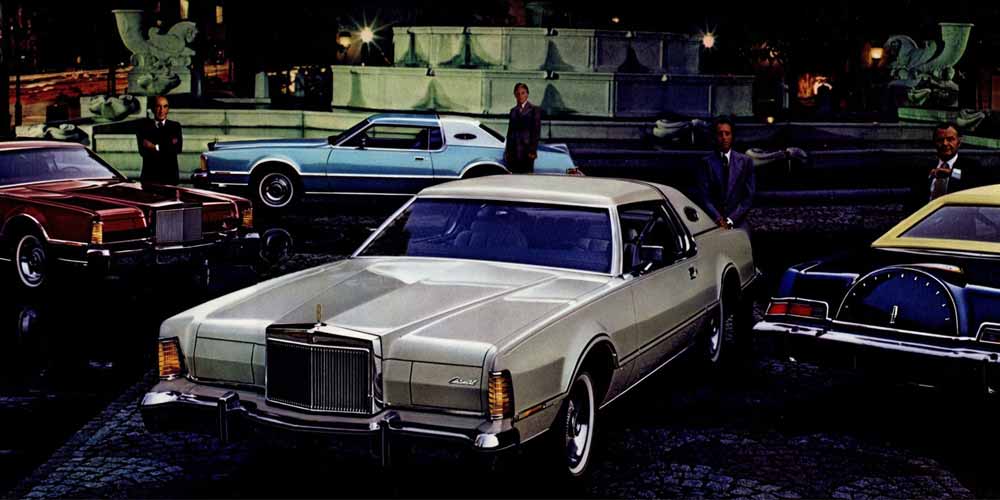 I think the most fun I had with this post was seeing how the major auto brands evolved over the last 100 years. In the early 20th century, there were intricate lockups with tons of detail. Then there were the elegant script letterings of the 50s and 60s that you'd find in brands like Lincoln or Oldsmobile. The chrome and shine of the 70s and 80s is always entertaining (so much gold!). And then there was the futuristic look that companies like Pontiac and Chevrolet started to adopt in the 1990s.
There are so many car companies across the world that I limited this post to American brands. And even then, I decided not to wrangle all the different models ... I could easily make a post with just Ford Mustangs or Lincoln Continentals. It's also worth noting that I'm using a loose definition of the word "logo." This is a collection of all kinds of marks: logos, badges, type treatments, and shields that I found interesting. I'd love recommendations on some other car sub-categories to explore next (hit me up on Twitter).
---
American Motors

American Motors

American Motors

Auburn

Baker Motor Vehicle

Buick

Buick

Buick

Buick

Cadillac

Cadillac

Cadillac

Cadillac

Cartercar

Chalmers

Chandler

Checker Motors

Chevrolet

Chevrolet

Chevrolet

Chevrolet

Chevrolet

Chevrolet

Chyrsler

Chyrsler

Chyrsler

Chyrsler / Plymouth

Clenet

Cole

Columbia

Cord

Crosley

Davis Motorcar

DeLorean Motor Company

DeSoto

Detroit Electric

Doble Steam Car

Dodge

Dodge

Dodge

Dodge

Dodge

Dorris

Dual Ghia

Duesenberg

Eagle

Eagle

Edsel

Essex

Excalibur

Ford

Ford

Ford

Ford

Ford

Ford

Ford

Gardner

GM

GM

GM

GMC

GMC

GMC

GMC

GMC

Graham-Paige

Graham-Paige

Haynes

Hudson

Hummer

International Harvester

International Harvester

Jeep

Jeep

Jeep

Jeep

Jeep

Jeffery

Kaiser

Lincoln

Lincoln

Lincoln

Lincoln

Lincoln-Zephyr

Marquette

Maxwell

Mercury

Mercury

Mercury

Mercury

Mercury

Nash

Nash

Nash

National

Oakland

Oldsmobile

Oldsmobile

Oldsmobile

Oldsmobile

Oldsmobile

Oldsmobile

Packard

Packard

Packard

Panoz

Plymouth

Plymouth

Plymouth

Plymouth

Pontiac

Pontiac

Pontiac

Pontiac

Pontiac

Ram Trucks

Rambler

REO

REO

REO

Rickenbacker

Saleen

Studebaker

Studebaker

Studebaker

Studebaker

Tesla

Willys

Willys

Willys-Overland
---